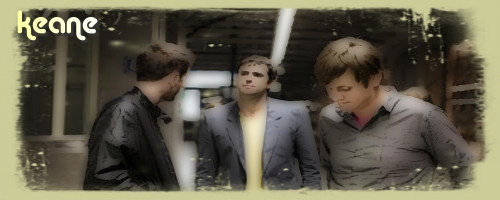 Originally call the Lotus Eaters, later changed to Cherry Keane (after a sitter who
watched Rice-Oxley and Chaplin as children), then eventually just Keane!
The group comprises composer, bassist, and pianist Tim Rice-Oxley,
lead vocalist Tom Chaplin and drummer Richard Hughes.
In 1997, Chris Martin invited Rice-Oxley to join his newly formed band
Coldplay. However, Rice-Oxley declined. One of the original
members, guitarist Dominic Scott, left the band in 2001.
Other Keane facts can be found HERE!
The official* Top 10 list of Keane songs!
5) Bad Dream
6) Atlantic
9) Hamburg Song
10) Playing Along
These are good too:
Nothing in My Way

Can't Stop Now

The Lovers Are Losing
Early Keane, before they hit it big with Hopes and Fears:
Closer Now
(one of the few songs written by Tom, listen to the entire song it's catchy)
Call Me What You Like
(The bands first single, limited to 500 copies)

In concert:
Vancouver, September 11, 2009